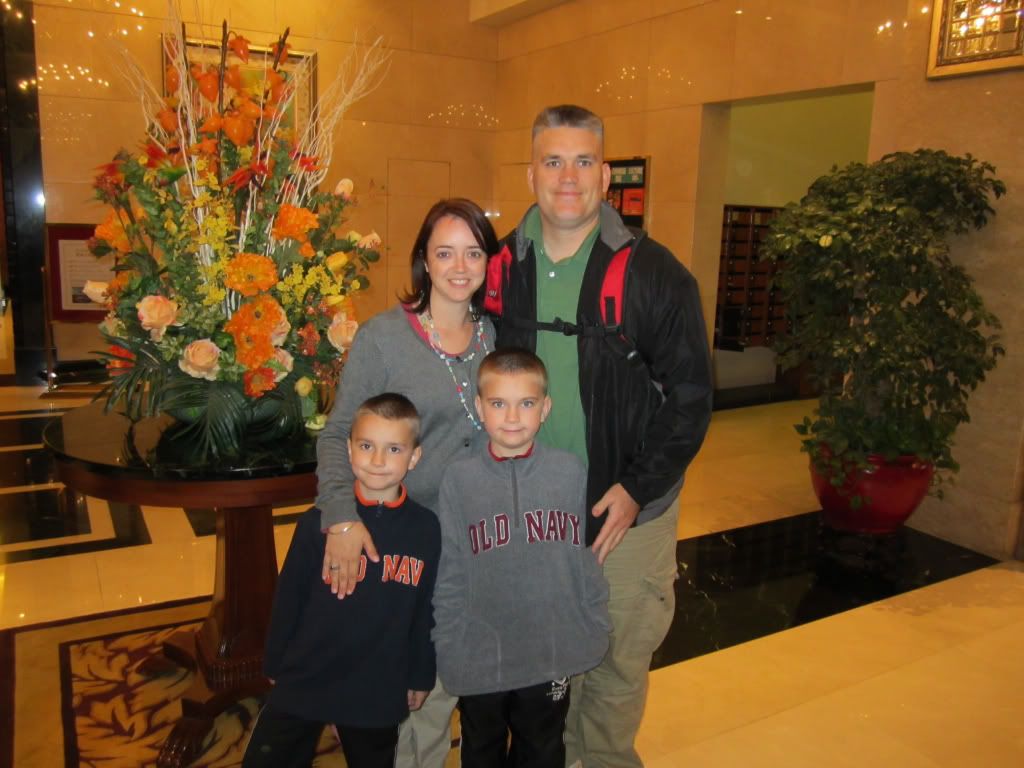 Plane Ride
I'm writing from somewhere over Russia! We are 9 hours into our flight. We have another 4 hours and 40 minutes to go. We were delayed leaving Chicago due to the baggage sorting system having mechanical troubles. We sat on the plane about an hour and a half before we were able to go. So, that makes the time stuck in the plane about 15 hours. We are all doing very well though, so I can't complain.
Our plane has 3 seats on each side and 3 in the middle. The boys and Chris have the middle 3 and I'm on the aisle seat next to them. I'm sitting next to a nice couple from North Carolina (hi Carol and Tony) that are going to China for a "trip of a lifetime"! They are very nice seat mates and have heard all about our adoption? They will actually be coming home via Hong Kong the same day as us. Their flight is about 2 hours before ours, but we are hoping to see them in the HK airport so they can meet Hannah!
The boys are doing amazingly well. They are sitting next to each other and aren't touching each other and driving each other crazy! Praise Jesus!! The seats have consoles in the head rests and you can access various TV shows, movies and games. Of course, the boys are loving that! It took them all of about 2 minutes to figure out how to change the default language to English and find a phineus and Ferb episode! They have also played their DS games and had a few snacks. Chase slept on the flight from SA to Chicago. He and I both did. My idea to keep them up on the first flight so they would be tired on this one was a total fail as Chase and I quickly fell asleep. Travis was awake on the first flight and I can tell his eyes are getting very heavy. I take that back, on second glance, T-man is now asleep. Chase has decided to lay his head down too. Chris watched a movie earlier but is now asleep too.
I'm doing well. I have slept, listened to music, read and now I'm typing this. It has been cold in the plane for much of the flight. I think every flight is cold, but this time even Chris dug out his jacket. I'm wearing a shirt, a sweater, socks and I have a blanket over my shoulders and a fleece blanket over my legs. I've been like this for the entire flight and I'm just now getting warmed up. The Baileys (free in intl flights!!!) I had a bit ago has helped too. ;-)
We have had a lot of people ask why we are going to China. It is so cool to hear Chris tell that we are on our way to adopt a little girl. He smiles and has such a sweet tone in his voice. I can tell he is so excited! The boys are always excited to share about Hannah too.
I will save this for now and post it when we get an Internet connection.
We are here!!!
Now i'm writing from our hotel room in Beijing...
We arrived in Beijing around 5:30 pm on November 2nd (4:30 am Texas time). We got through customs, got our baggage and then found Angela, our guide. It was rush hour, so Angela warned us that it may take an hour or more to get to our hotel. We made good time and got to our hotel and got checked in. We are staying at the Lee Garden Service Apartments. We have a suite that has a bedroom with 2 queen beds, a separate living room/ dining area and a small kitchenette. It is so nice! It is more space than we need, but we are grateful to have the extra space to spread out. Angela came to our room and helped us get settled as we waited for our luggage to come up. Then we left here and went to dinner at a nearby McDonald's.
McDonald's is a meal that I would hate in the states, but being in a foreign land somehow makes McDonald's super yummy! This was always our experience in Korea and it still holds true. The boys were pleased with the dinner experience as well. We had eaten on the plane, but the food wasn't good at all. On the way home a chinese vendor did a few magic tricks for the boys in an effort to sell us his magic kit. We ended up buying one and the boys were so happy. It comes with a video and book (in english and chinese)so when you see us after we are back the boys may do a magic trick for you. You have been warned! Now we are back at the hotel and we have showered and gotten the luggage organized. We are going to head to bed soon.
We were scheduled to see the Great Wall on Saturday, but Angela thinks it would be smarter to go tomorrow than Saturday. It will be much busier on a Sat than a Thurs. We agreed, so our plans are to tour the Great Wall and Temple of Heaven tomorrow.
We have Internet all set up in our room. We can receive emails and update the blog and Facebook easily! We are so thankful for all of the well wishes and prayers from all of you. I'm having trouble adding pictures, so I'll try to work on that tomorrow.
Blessings to you all!
Amy, Chris, Travis and Chase
Sent from my iPad